A focused Chidobe Awuzie preps for final campaign with the Buffs
Chidobe Awuzie wants his senior class to be part of the group that helps Colorado end its long bowl drought. That is one of the reasons the versatile defensive back never tested the NFL Draft waters after a stellar junior campaign.
"I came in with a class, a lot of those guys mean a lot to me, and [head] coach [Mike] Mac[Intyre] means a lot to me," Awuzie said. "We have a good thing going and I want to see the progress finish and us get to a bowl game. We need to find a way to get it done."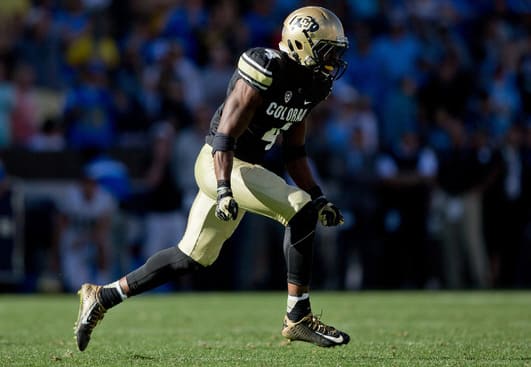 Following Friday morning's practice, the Buffaloes' second of spring ball, Jim Leavitt's face lit up when asked about Awuzie. The versatility Awuzie adds to CU's defense allows Leavitt to make some calls as the defensive coordinator that he otherwise wouldn't. Still, Leavitt said it would have been a mistake if Awuzie had left college a year early.
"He wasn't ready. I am not saying he is not a hell of a player, because he is, but he'll really be ready [for the NFL] after this year," Leavitt said. "He'll be more mentally ready. He'll be at the top of his game. So he made a good, smart move coming back.
"He is extremely valuable, a real key piece to our defense. He is just a great young man that really wants to be good. He competes all the time. I really think a lot of him."
Competing all the time is something Awuzie admits was not always the case. He said his effort level has reached a new level as he moves toward his senior season.
"Sometimes in the past I kind of loafed. That is something I look back at on film and it makes me sick to my stomach," Awuzie said. "As time has gone on, I kept working on my conditioning. Hopefully I have it to where I am giving 100 percent effort every play."
Awuzie was named second-team all-conference in 2015 but it still feels like his talents are largely under-appreciated outside of Boulder. No defensive back in the Pac-12 recorded more tackles for a loss last season. Awuzie led the Buffs in solo tackles, and finished second on the team in total tackles, pass breakups and third-down stops.
His elite athleticism and closing speed has helped Awuzie excel at all three defensive back positions throughout his collegiate career. He spent a majority of his time in the nickel back role last fall. What will Awuzie's role be for the Buffaloes this season?

"We're going to move him around," Buffaloes head coach Mike MacIntyre said after Monday's practice. "We're going to play him at corner. We'll play him at nickel, too. It is going to depend on, when we go into a game, what the other team does best. If they have a guy they are going to throw to a lot, we'll put him out there [at cornerback]. If we feel like they are going to run the ball, we might put him inside and blitz him some more. And we might [change up his role] throughout the course of a game, too."
MacIntyre said Awuzie needs to create more takeaways to elevate his game to an even higher level as a senior. Awuzie had two interceptions and a forced fumble last season.
"If he could have just two or three more [takeaways this season], because he is around the ball so much, those can be game changing plays," MacIntyre explained. "I look for him to be a guy the other team is worried about as a turnover magnet. He had a pick today (Monday) and he had some pass breakups. He is a really good player."
More with Awuzie, Q-and-A style:
Along with Tedric Thompson, do you feel like the elder-statesman of the secondary now?
"Definitely. We have a core group of guys that have been here for a while now so we have that chemistry and really know who is leading the group. Tedric, [Ryan] Moeller, Ahkello [Witherspoon], a lot of us have taken on a better leadership role because a lot of the younger guys are looking at us for that motivation."
Does leading come natural to you? How would you describe your leadership style?
"I like to lead. I will single players out on an individual level, get them away from football, talk to them about life and find out what is going on. When I find out what is going on, then it is easier to help them and lead and motivate them. Whatever I can do for the team from a leadership standpoint, I am going to do. But getting up in front of people and talking to them is not my kind of thing. Phil Linday is a great leader in that way. I can do that if they need me to, but I like to lead more on an individual level."
I'd imagine during your time here, spending time at every position in the secondary, you've had to embrace being a versatile player?
"For sure. It is nothing new to me. Back when I was in high school, I played defense and offense. Now I am just moving around to different positions on defense. I am comfortable with it. Whatever it takes to win, I'll do."
Is there part of you that would like to play a lot of cornerback this season so that NFL scouts have more film on you at that position?
"I am not worried about the NFL right now. I am just worried about playing good defense. My mentality is, see ball, get ball, no matter where I line up. That is my job, to get turnovers and make sure they don't score."
Have any of the young defensive backs emerged in your eyes?
"Yeah, I feel like all the young defensive backs are a little more focused now. Last year they were kind of learning the defense but now when it comes to the weight room, when it comes to coming in on Saturdays, getting the extra work in, they are there so I really appreciate that. That is for everybody on the team. It is kind of this different mindset that came when Coach [Drew] Wilson came in to be our new strength [and conditioning] coach. We know we weren't that good and we have to do a lot more to be better. We've really bought into that, so it is been really good."
Who's Back at Cornerback/Nickel Back
| Player | Class | The Skinny |
| --- | --- | --- |
| Chidobe Awuzie | Senior | Arguably CU's best player, regardless of position |
| Ahkello Witherspoon | Senior | Needs to improve consistency; but solid overall |
| Andrew Bergner | Junior | Helps the Buffaloes' scout team defense |
| Isaiah Oliver | Sophomore | Next level skills; has chance to be really special |
| Nick Fisher | Sophomore | Played 57 defensive snaps as a true freshman |
| Lucas Cooper | R-Freshman | Joined team as a preferred walk-on last summer |
Who's Back at Safety
| Player | Class | The Skinny |
| --- | --- | --- |
| Tedric Thompson | Senior | 24 starts under his belt; very consistent and solid |
| Ryan Moeller | R-Junior | Emerged as a playmaker before getting hurt last fall |
| Afolabi Laguda | R-Junior | Solid depth piece that plays a physical brand of ball |
| Cameron Beemster | R-Junior | Helps out on the Buffaloes' scout team defense |
| Jaisen Sanchez | R-Sophomore | Bit of a tweener with long 6-foot-1, 195-pound frame |
Who's Gone in the Secondary
| Player | The Skinny |
| --- | --- |
| Jered Bell (S) | Recovered from two torn ACLs and played in 37 games as a Buff |
| Ken Crawley (CB) | Solid career as a starter but never quite lived up to his full potential |
| Marques Mosley (CB) | Got lost on the depth chart after playing a lot as a true freshman |
| John Walker (CB) | Was solid depth piece as nickel back; graduated and moved on |
| Yuri Wright (CB) | Blue-chip recruit never lived up to the hype; couldn't add weight |
| Evan White (S) | Was recently dismissed from the team for violation of team rules |
2016 Additions
| Player | The Skinny |
| --- | --- |
| Ronnie Blackmon (CB) | One of CU's most electrifying signees; should also be return man |
| Trey Udoffia (CB) | Versatile playmaker at prep level; expected to play corner for CU |
| Ca'Ron Baham (CB) | Played quarterback for John Ehret High School; has speed to burn |
| Kyle Trego (S) | Late JUCO signee that will arrive in May with four to play three |
| Daniel Talley | Spring walk-on candidate; transfer from CSU-Pueblo |