Pursell joins Buffs' commitment list
Colby Pursell knew he wanted to be a Buff during the last night of his official visit to Colorado. However, the offensive line prospect from Newhall (Calif.) Hart decided to return home before making the call.
"The last night of my visit, in the hotel, I was thinking about it and I thought, 'Yeah, this is where I want to be, for sure,'" said Pursell, who measured in at 6-foot-3.75, 289-pounds during his trip to Boulder. "It felt nice to know and give a solid answer to myself as to where I am going to be in the future."
Pursell committed to the Buffaloes over interest from Army and Cal Poly. He was hosted by sophomore-to-be John Lisella during his time in Boulder.
"He says he enjoys the experience there at Colorado a lot. He said it is a very nice place to be," Pursell said of Lisella. "They have amazing facilities at Colorado and it is not just the football facilities or the fact they have a big football program, they also have good academics and good resources for the players to use.
"They have good trainers at Colorado, as well. Just all-around, they have very nice resources and facilities. All the coaches were nice and helpful. The players I met were all nice. It is a very good place to be, it seemed like."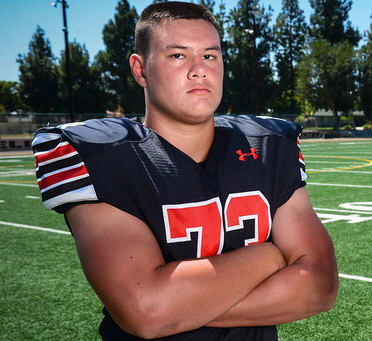 Pursell is not sure if he will enroll at Colorado this summer, or if he will grayshirt and enroll next January. Offensive line coach Gary Bernardi was responsible for his recruitment from the Buffaloes' staff.

"One of Coach Bernardi's big things is that I am young for my year of school. I am 17 right now and I don't turn 18 until October, so I am still growing," Pursell said. "My dad is 6-foot-6 and I am not there. If I grow I could play offensive tackle. But even if I don't grow, I still have the size to play an interior line position."
Pursell prides himself on being a balanced offensive lineman. He said he was equally effective as a run blocker as he was a pass protector at the high school level. Pursell earned first-team all-league honors as an offensive tackle for his senior season.
"I was happy just blocking, being able to maintain my blocks," he said. "I was able to know my assignment every time, so I knew the plays very well. I was able to help others when they needed help. If for some reason someone else didn't know the play, I was able to help them out."
Planning to study some aspect of science in college, Pursell also plans to study what it takes to be a successful offensive lineman in the Pac-12.
"With me, Colorado is getting someone that is going to work hard and give everything they can to the team," he said. "I will work hard in the weight room to be the best player that I can possibly be. I am going to try and hopefully be able to contribute to the team on game day."